Stir Fry Beef Noodles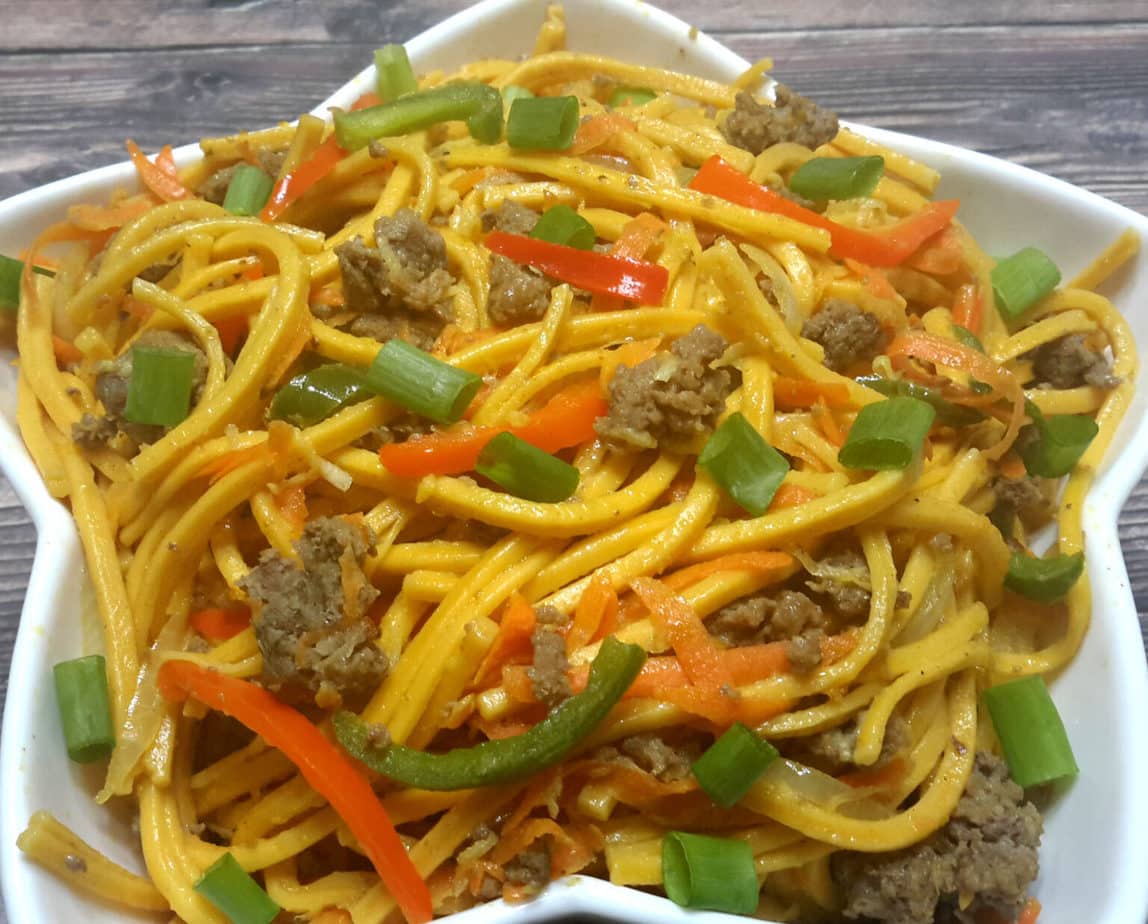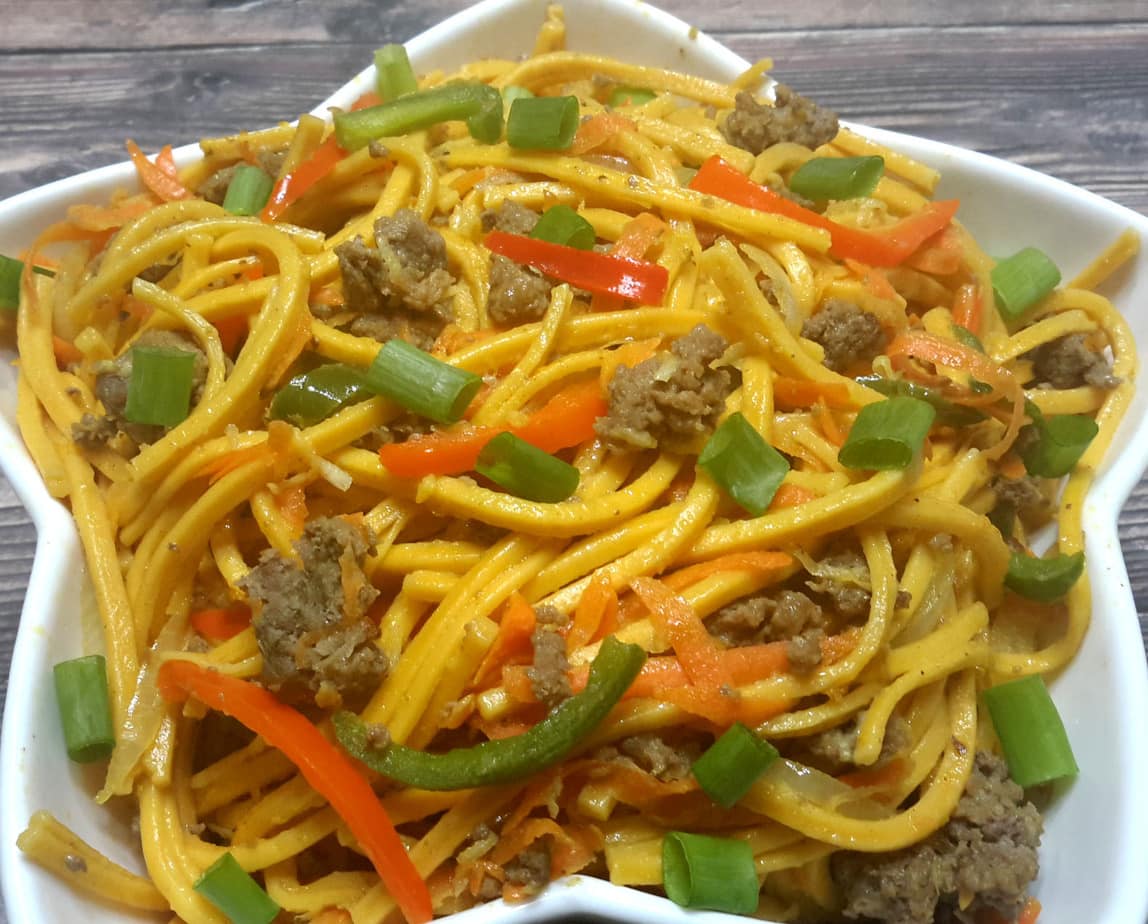 So the New Year is here; we are actually in 2021. I am so happy and thankful to God to be alive, and I know that many of us feel the same way.
As we begin a new year, many people tend to change their diets and go on different plans. Some prefer to eat healthily, and some look for different ways of cooking. This year I do plan to eat more healthy foods. I also want to cook more quickly and make some easy recipes to share with you.
This recipe is a very simple noodles recipe made with minced beef. It is light and is my go-to meal when I'm short on time. It is very delicious and easy to prepare. I love anything with minced beef.
Once you decide to make this recipe, you need to seasoning your minced beef, cook it and set it aside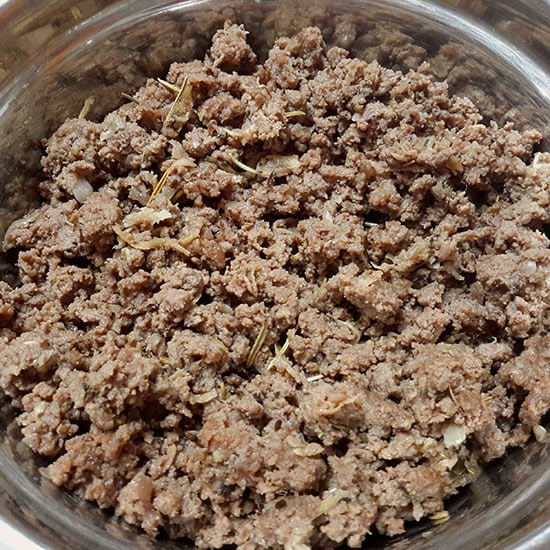 You would need to have all your vegetables chopped up beforehand as you will have to add them in very quickly. This Stir Fry Noodles is a quick and easy dinner menu to prepare when you are tired after a day's work or want to prepare a quick meal on the weekend. You will love making it when you are short on time.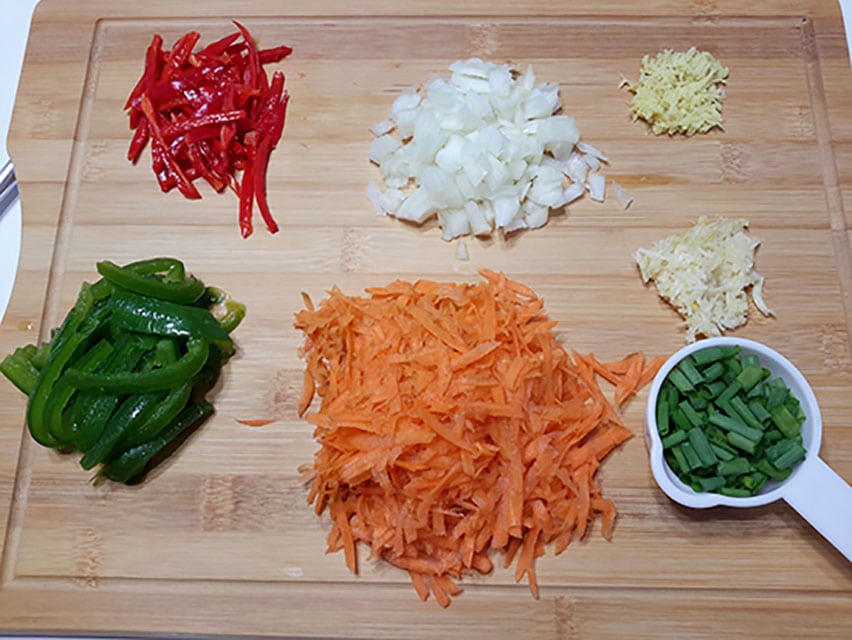 I used red pimento peppers. This is a very flavorful pepper that is not hot, if you can get you hands on these you will love cooking with them. I know these are not readily available in some parts of the world, However red bell peppers is just as flavorful. So for this recipe you can use red bell peppers.
Once you have your ingredients ready, let's get to cooking.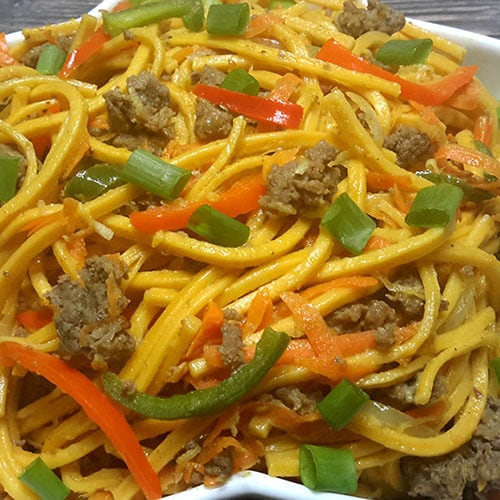 Stir Fry Beef Noodles
Ingredients
1/2

pound

minced beef

or ground beef

1

pack

cooked egg noodles

(12 oz/340g)

 1

tbsp

vegetable oil

or olive oil (plus 1 tsp.)

1

tbsp

sesame oil

 1

tbsp

oyster sauce

1

tbsp

soy sauce

1

carrot

shredded 

1/4

cup

scallion

or chive, or green onions chopped plus to garnish

1

small

onion

plus 1/2 onion (chopped)

5

red pimento peppers (cherry peppers)

or red bell pepper (chopped)

1

green bell pepper

small (chopped)

2

tsp

fresh ginger

(finely minced)

5

cloves garlic

(finely minced)

1

tbsp

sea salt

plus 1 tsp.

1/2

lime juice

1 tsp

rosemary

1

tsp

black pepper

1

tsp

basil
Instructions
Place the minced beef in a bowl, add 1 tsp salt, squeeze 1/2 of a lime juice, 2 cloves garlic minced, 1 tsp fresh ginger minced, 1 tsp rosemary, 1 tsp black pepper, 1 tsp basil and combine. Set aside.

Bring a large pot of water to a boil, add 1 tbsp sea salt. Cook noodles according to package instructions for about 6-9 minutes.

Heat non-stick pan with 1 tsp olive oil, Put the minced beef in the pan and stir. Covers so that water will spring from beef to cook it. Let it cook for about 8-10 minutes. Drain excess oil. Turn off heat, set aside.

Heat wok or pan to cook noodles, put 1 tbsp vegetable oil or olive oil.

Add the remaining minced garlic and ginger to heated olive oil and stir.

Add chopped onions, stir in for about 3 seconds

Add shredded  carrots, and red and green bell peppers, and or pimento pepper; continue to stir.

Add the cooked minced beef to vegetables.

Then add the cooked Noodles and stir with thong thoroughly. Make sure the vegetables and minced beef are spread throughout noodles.

Add sesame oil and oyster sauce and soy sauce.

Take off and serve warm. Add freshly chopped chive or scallion on top of cooked noodles. Serve warm.
Notes
Please have your minced beef prepared and all your vegetables chopped and all other ingredients on hand, ready to cook as you will need them very quickly. 
Nutrition
Calories:
232
kcal
Carbohydrates:
6
g
Protein:
11
g
Fat:
18
g
Saturated Fat:
5
g
Cholesterol:
40
mg
Sodium:
2499
mg
Potassium:
289
mg
Fiber:
1
g
Sugar:
2
g
Vitamin A:
2658
IU
Vitamin C:
27
mg
Calcium:
26
mg
Iron:
1
mg
---
---