Pineapple Fried Rice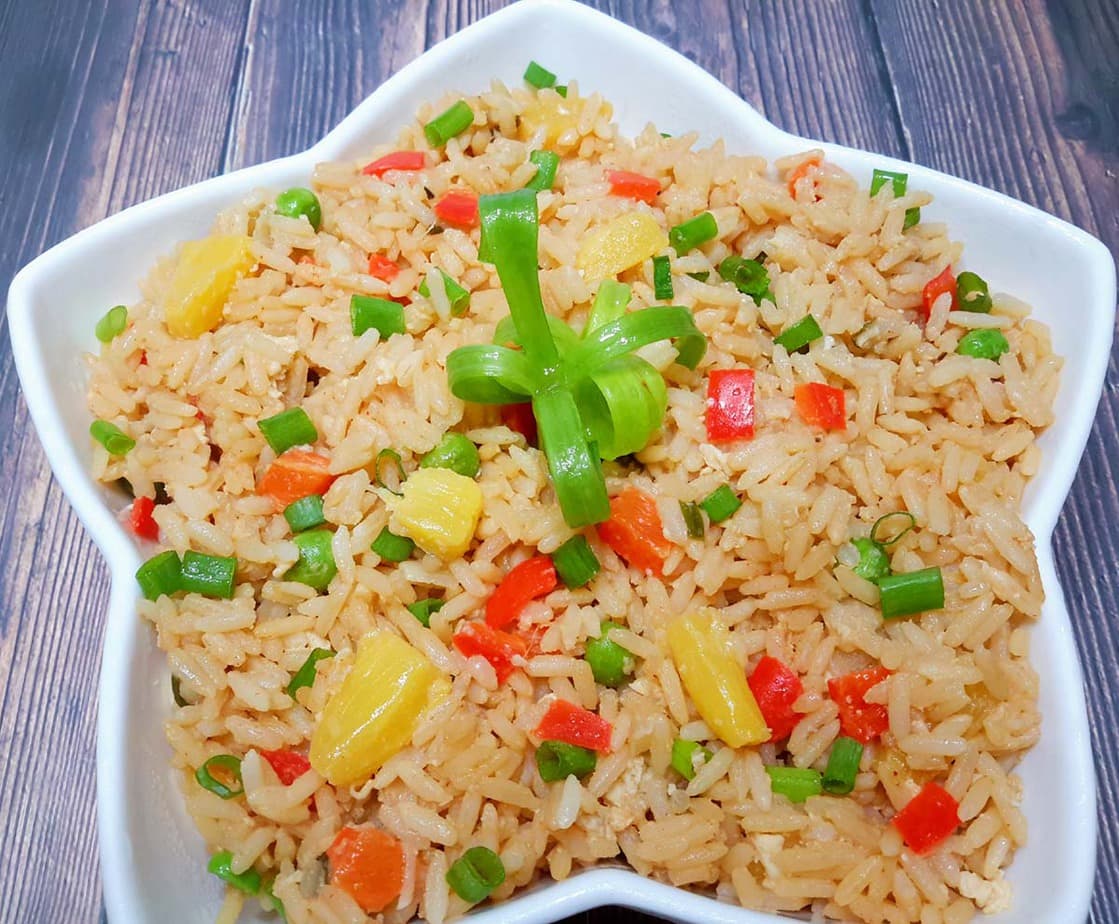 Pineapples are one of my preferred fruits. It's incredibly juicy and has a vibrant tropical flavor. I love it because it can be used in both sweet and savory dishes. It is the most versatile fruit, in my opinion.
Pineapple Fried Rice is of Thai origin; there are various versions of Pineapple Fried Rice around. I love cooking the dishes from different countries, and this is one of my favorites as it is quick and easy to make.
For this recipe, jasmine rice is normally used. I've found that it doesn't matter which rice you use; it is simply a matter of choice. You get the same results in the end. I used parboiled brown rice in my recipe since it is readily available in my region.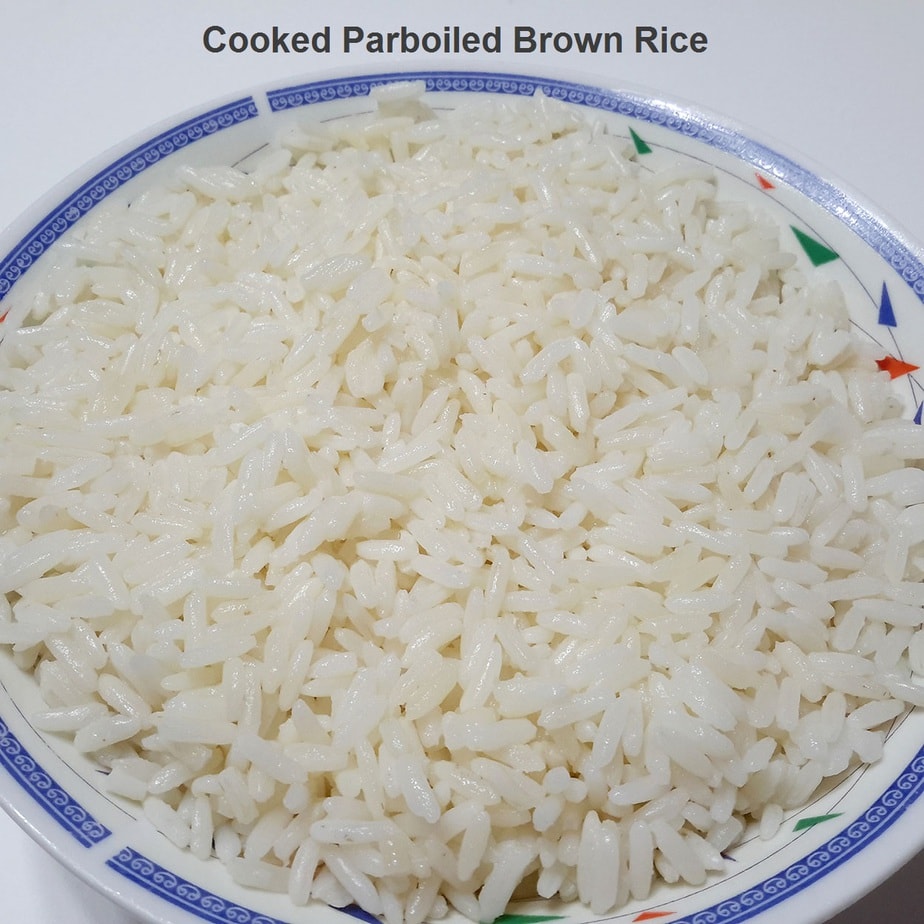 I do cook jasmine rice, and I love it for, if nothing, its aroma. You may want the smell of jasmine rice. If you decide to use jasmine rice, I have step by step instructions in the recipe notes.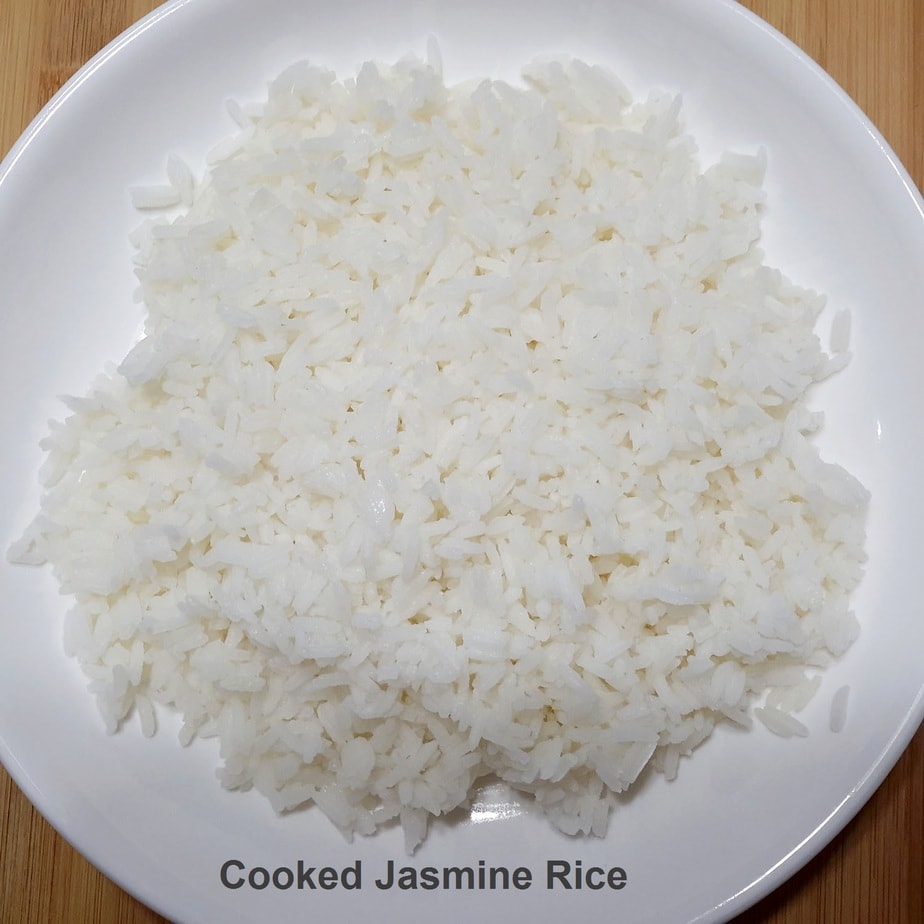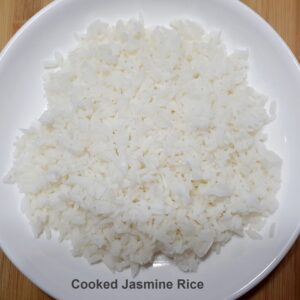 However, when it comes to nutrition in jasmine rice vs. parboiled brown rice, parboiled brown rice might make a healthier option. According to the USDA, you will get the same energy from a 1/4 cup of either rice. They also contain similar amounts of protein and carbohydrate. However, parboiled brown rice contains minerals such as fiber, iron, zinc, magnesium, copper, and Niacin, while Jasmine rice has no minerals.
Let's talk about the flavor.
To make pineapple fried rice, you need to have the right type of sauces to get that authentic Thai flavor that you certainly want for this recipe.
Oyster sauce will give you the most authentic Thai, flavor.
Soy sauce will enhance the flavor giving you both a home style and restaurant-style cooking. 
Maggi seasoning is what is commonly used in the Caribbean. It is also used in a lot of restaurants and homes.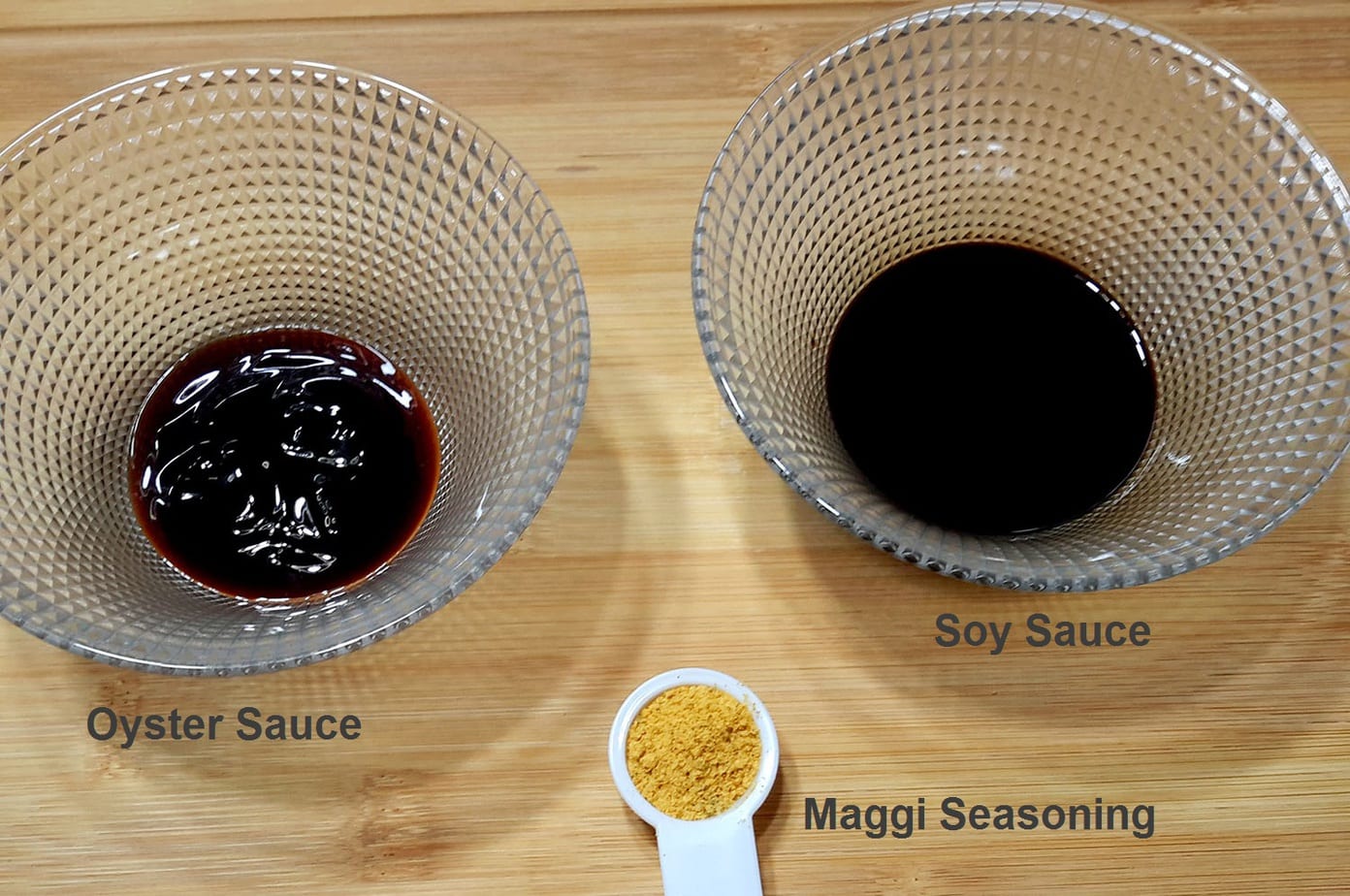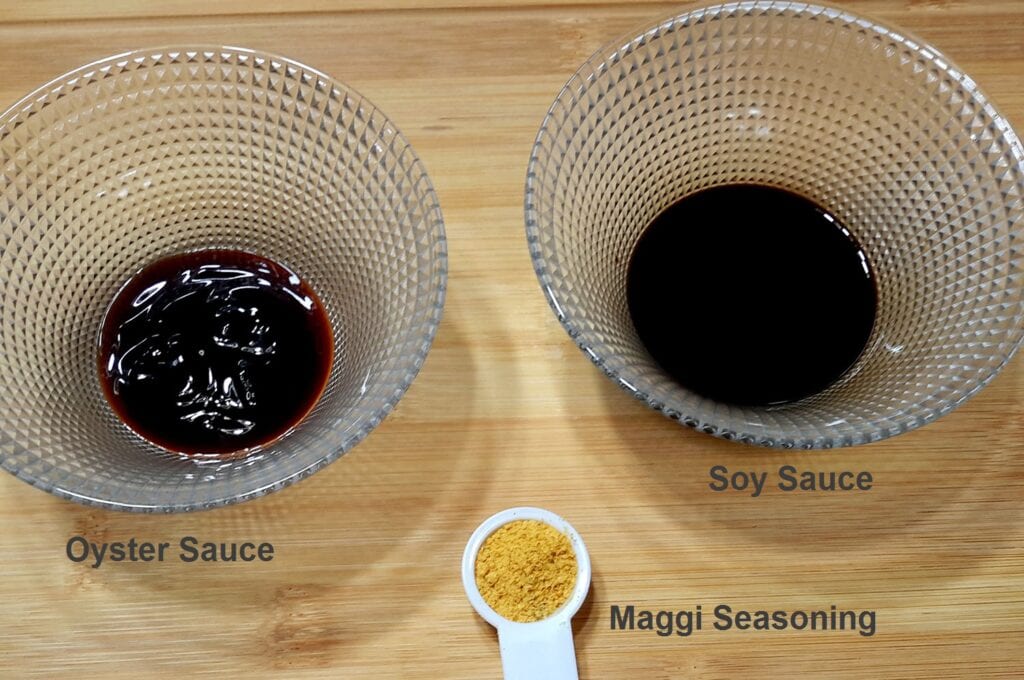 These flavors will undoubtedly enhance the taste of your pineapple fried rice.
If you want to know what Maggi seasonings look like, you can pick it up on Amazon for between $10-$15. It has a long shelf life. I used the powder form, but you can use the same amount in liquid form in the recipe.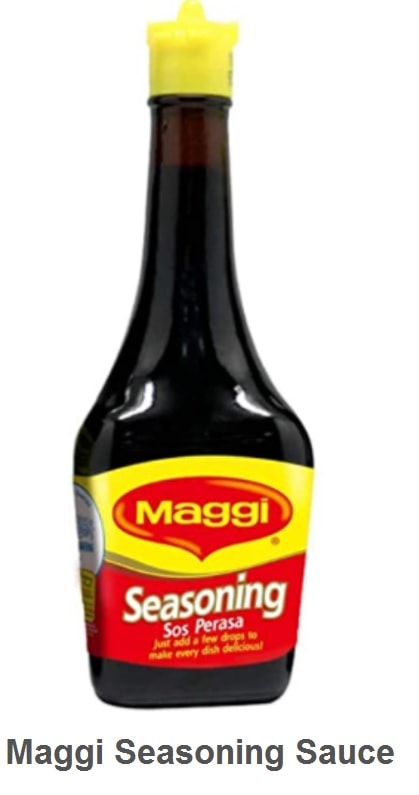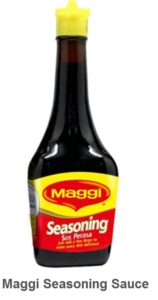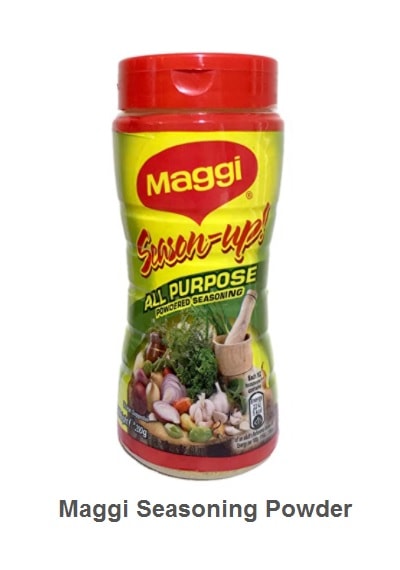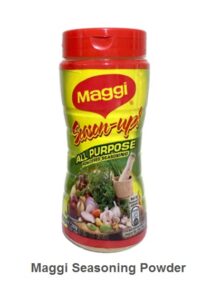 This recipe is very quick and easy, so make sure to have all your ingredients ready. You can also use a day old rice to make it.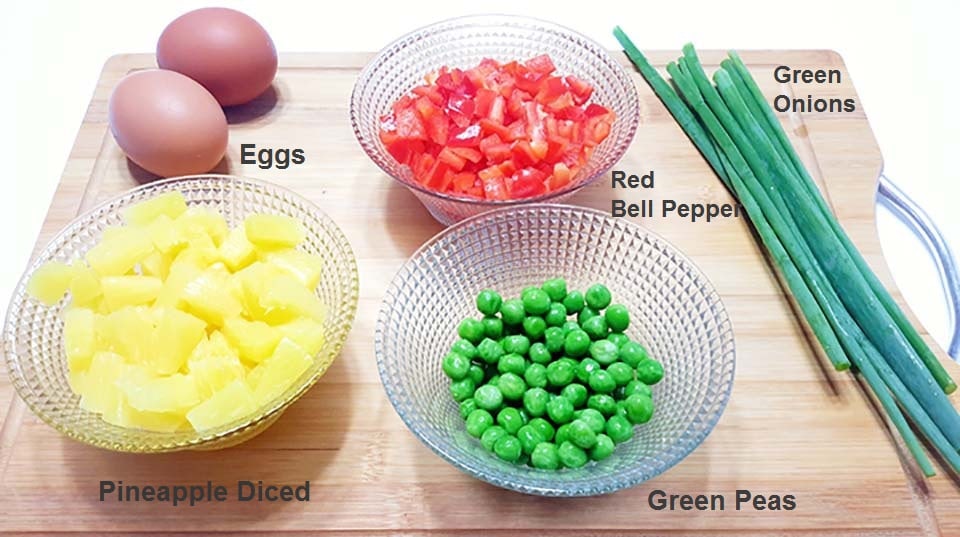 Now that you have your ingredient prepared, let's go to the recipe.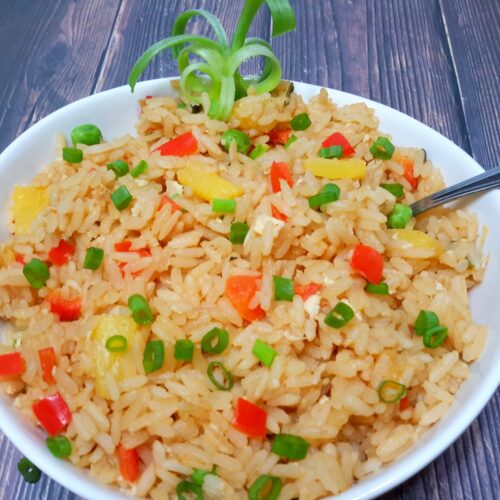 Thai Pineapple Fried Rice
Thai Pineapple Fried Rice Recipe
Ingredients
2

tbsp.

vegetable oil

or coconut oil

1

yellow onion

medium (chopped)

1

cup

red bell pepper

,diced

1 1/2

cup

pineapple

,diced

3

cloves

garlic

,finely minced

3

cups

cooked rice

(preferably a day old)

1/2

cup

green peas

frozen (thawed)

1

tsp

lime

2

tbsp.

soy sauce

1 tbsp

oyster sauce

1

tbsp

sesame oil

optional

1

tsp

Maggi seasoning

optional

2

eggs

large (beaten)

1/2

cup

scallions

or green onions or chive thinly sliced
Instructions
Heat oil in a skillet or large non-stick pot over high heat.

Add garlic and onion, cook for 1 minute

Add red bell peppers and diced pineapple and cook until the pineapple is caramelized for about 3 minutes.

Stir in rice and peas, then add, soy sauce, oyster sauce and maggi seasoning if used. Cook for about 2-3 minutes.

Push the rice to one side of the skillet or pot, then add eggs pour lime juice over eggs. Stir thoroughly until almost cooked, then fold the eggs into the rice mixture to combine thoroughly. Pour sesame oil if using over rice and fold in thoroughly. Turn off heat

Garnish rice with green onions and serve warm.
Notes
Make sure to have rice pre-cooked for this recipe. Usually one day old. 
Make sure ingredients are cut up and within reach.
If you choose to use jasmine rice in this recipe, here are the steps.
To 6 cups of water, add 3 tsp. salt into a cooking utensil and bring to a boil; then add 3 cups of jasmine rice. Cover with a tight-fitting lid, lower the heat, and simmer until cooked.
Nutrition
Calories:
377
kcal
Carbohydrates:
55
g
Protein:
11
g
Fat:
14
g
Saturated Fat:
8
g
Cholesterol:
82
mg
Sodium:
485
mg
Potassium:
414
mg
Fiber:
4
g
Sugar:
11
g
Vitamin A:
1519
IU
Vitamin C:
94
mg
Calcium:
63
mg
Iron:
2
mg
---
---