Grilled Chicken Kebabs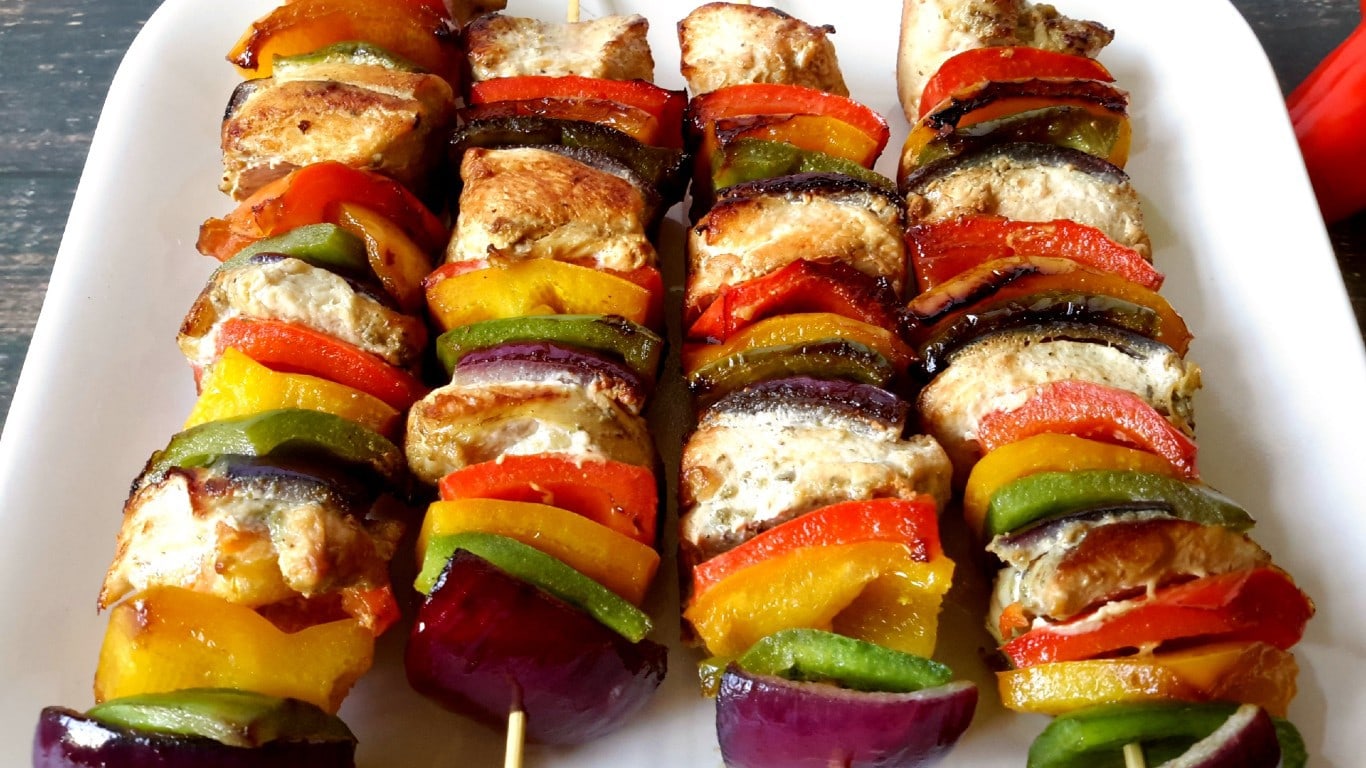 Nothing is more exciting than being able to whip up a quick and easy dinner for your family. Kebabs are that type of dinner. I love preparing and cooking my meals quickly, especially if I had a rough day. I usually make it for dinner; you know, when I feel like eating something relatively healthy but straightforward to make.
What are Kebabs?
Kebabs are also called kabobs. The cuisine is of Middle Eastern cuisine origin. There are many variations of Kebabs that are popular throughout Asia and around the world. It is usually grilled, and although kebabs are often cooked on a skewer, some are not. It is a dish that mainly consists of cut up or ground meat or seafood, with vegetables or sometimes fruits that is cooked on a skewer over a fire or on a grill. It can be baked in an oven or cooked as a stew.
How to make Grilled Chicken Kebabs?
As with any meat dish, marinating is the most crucial part of this recipe since it brings flavor to the dish. The longer you marinate a meat dish, the more flavorful it becomes. The minimum time needed to marinade these kebabs is one hour. Whisk together your ingredients for the marinade, then put in your chicken and veggies into the marinade. Let it soak for a minimum of an hour.
Thread the marinated chicken and vegetables onto your skewers.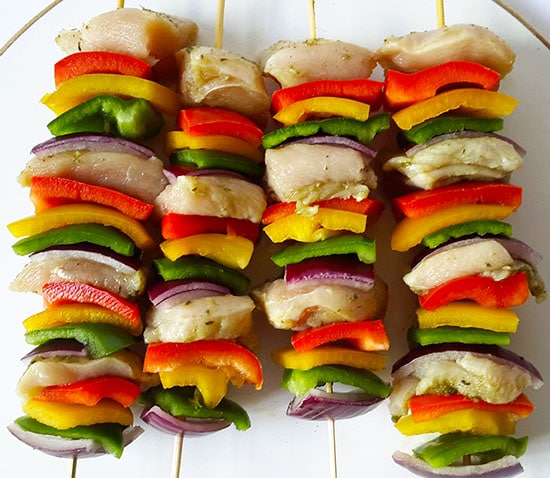 Then cook for 5-7 minutes on each side or until the chicken is cooked through. If you use wooden skewers on an outdoor grill, ensure you soak your wood skewers in cold water for at least 20 minutes to keep them from burning.
You now have a delicious dinner of grilled chicken Kebabs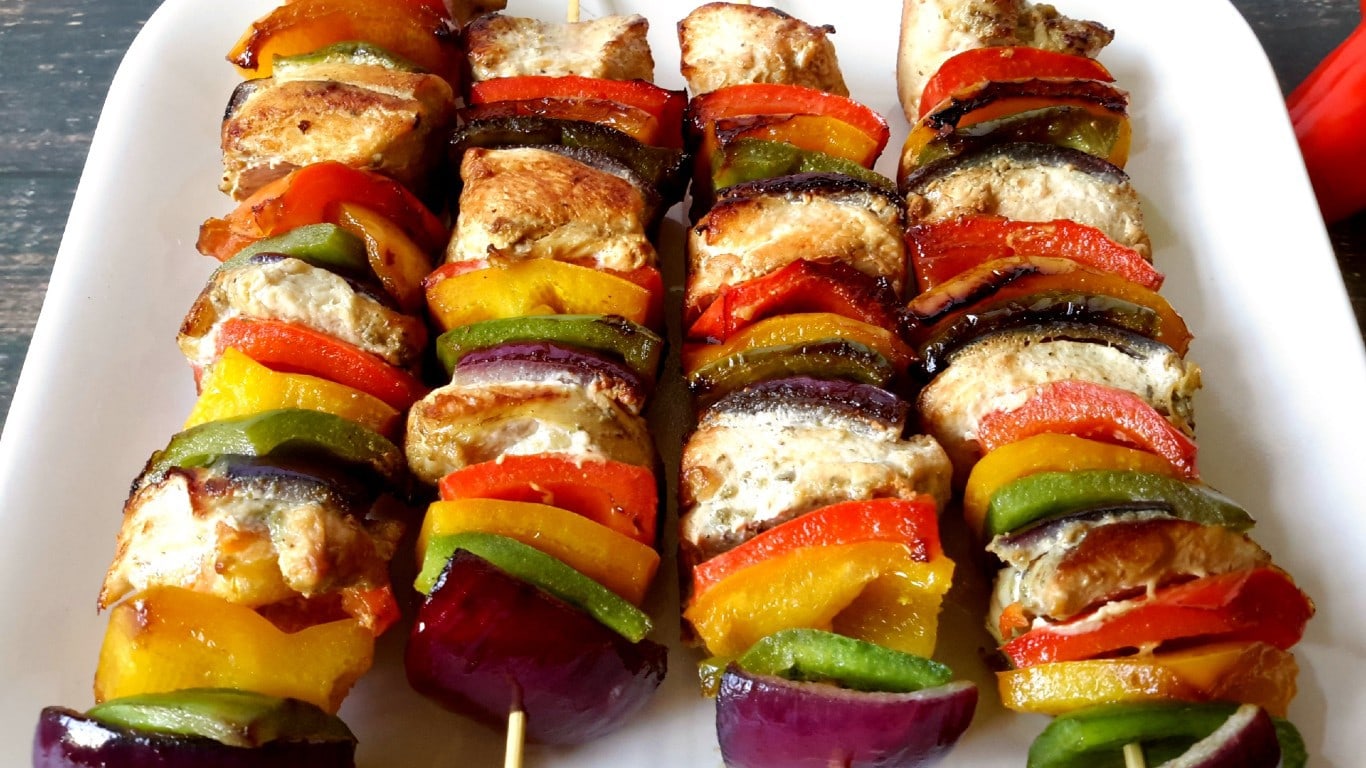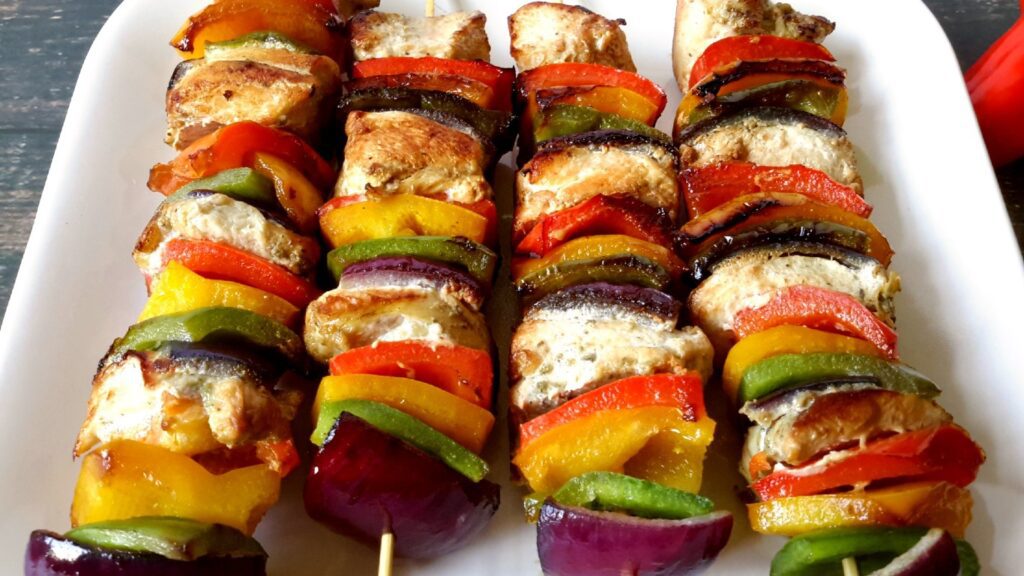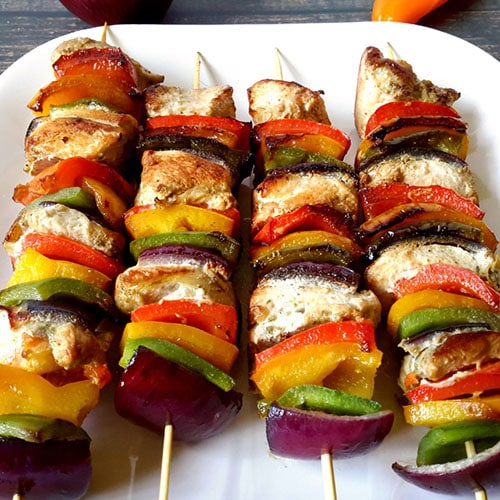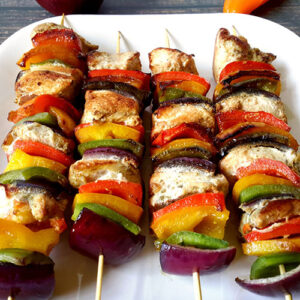 Grilled Chicken Kebabs
Ingredients
1

pound

boneless, skinless chicken breast

1/3

cup

soy sauce

¼

cup

olive oil

1

tsp

garlic minced

1

tsp

ginger minced

1

red bell pepper

1

yellow bell pepper

1

green bell pepper

1

red onion

Salt and pepper to taste
Instructions
In a large bowl, whisk together oil, soy sauce, garlic, ginger, salt, and pepper.

Add the chicken, bell peppers, and red onion to the bowl. Toss to coat in the marinade.

Cover with plastic wrap and refrigerate for at least 2 hours.

Preheat grill or grill pan to medium-high heat

Thread the chicken and vegetables onto the skewers.

Cook for 5-7 minutes on each side or until chicken is cooked through.

You can garnish with freshly chopped parsley. However, kebabs are colorful and appealing as is. It's up to you. Serve warm
Nutrition
Calories:
294
kcal
Carbohydrates:
9
g
Protein:
27
g
Fat:
17
g
Saturated Fat:
3
g
Trans Fat:
1
g
Cholesterol:
73
mg
Sodium:
1216
mg
Potassium:
679
mg
Fiber:
2
g
Sugar:
3
g
Vitamin A:
1136
IU
Vitamin C:
120
mg
Calcium:
24
mg
Iron:
1
mg
---
---