Pineapple BBQ Baked Chicken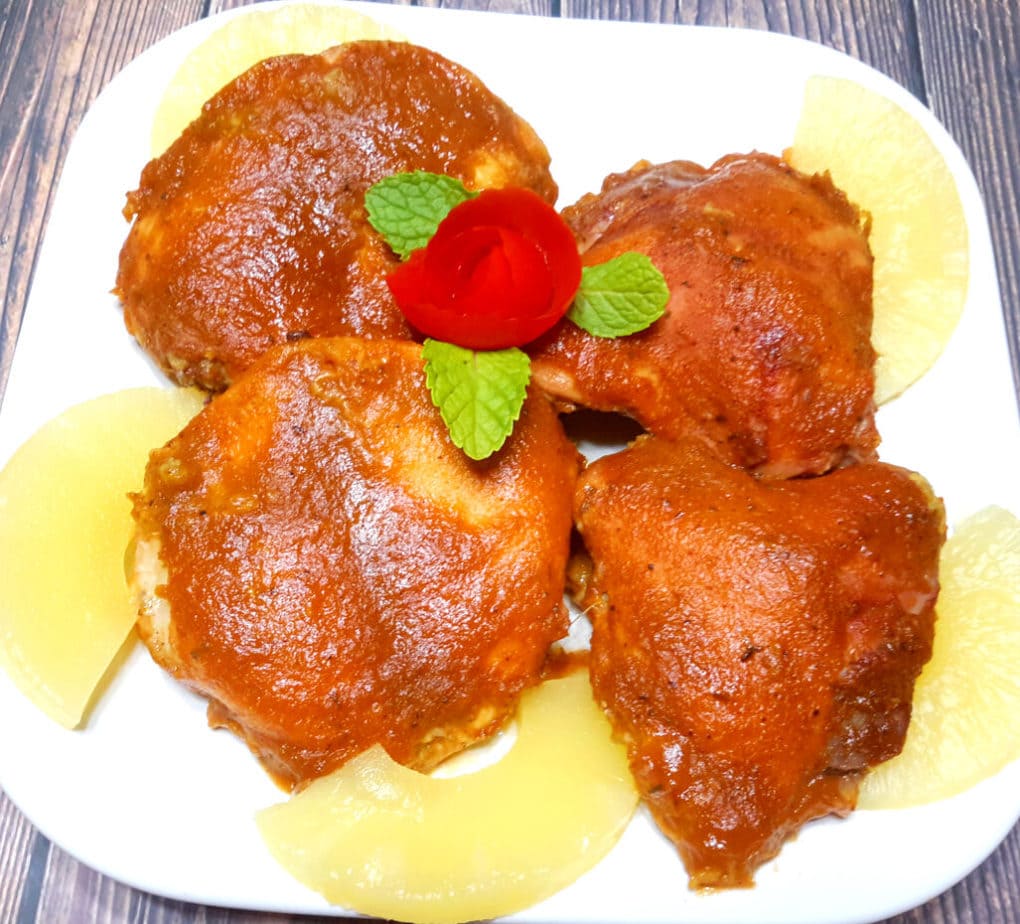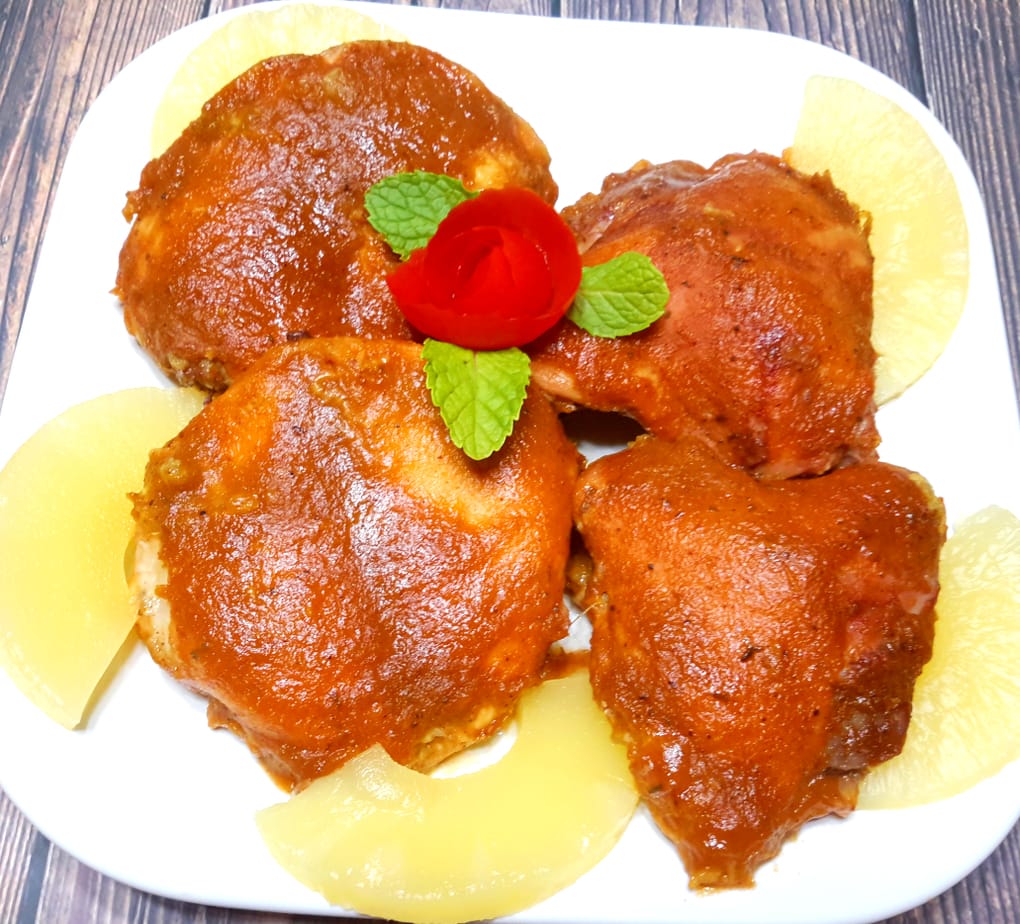 Chicken baked in pineapple sauce would probably be one of the best-baked chicken you will ever taste. It is baked in the most delicious sweet and spicy sauce that will mesmerize your taste-buds.This chicken recipe is especially significant if you have friends or family over.
For this recipe, we will be using our favorite highly flavored green season. One of the main things to remember about this green seasoning is that it may take a little time to wash your green herbs, cut up and blend in a blender or food processor, but it saves time in the long term. This seasoning can be made in large amounts and stored in the refrigerator for at least a week. It can also be stored in containers and frozen to last longer. Once it is thawed out, you can then use it to season all your meat dishes. I usually keep mine for up to one month. It is the same seasoning I used to season my recipe with chicken fried in olive oil. The first time you use this seasoning and taste how delicious your meat taste, you will never stop using it. It is so convenient to make a lot and store to season all your meat dishes. 
Click on this Green Seasoning Blended link to get the full recipe to make green seasoning to season your chicken.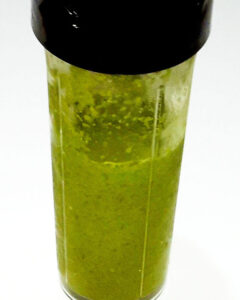 One of the things I love eating pineapple baked chicken with is macaroni pie. It makes a great meal with your favorite rich dish, macaroni pie or mac and cheese.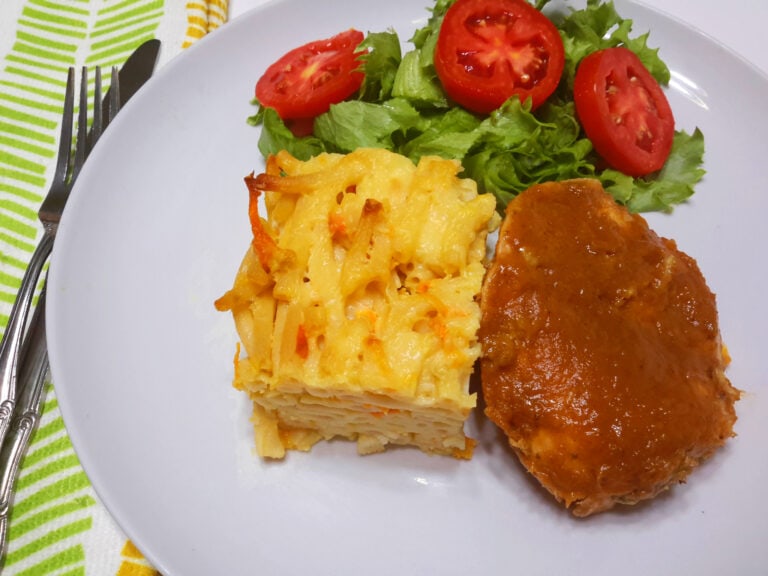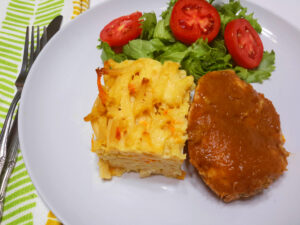 Now let's go to the recipe to see how to make pineapple BBQ chicken. I know you will love it.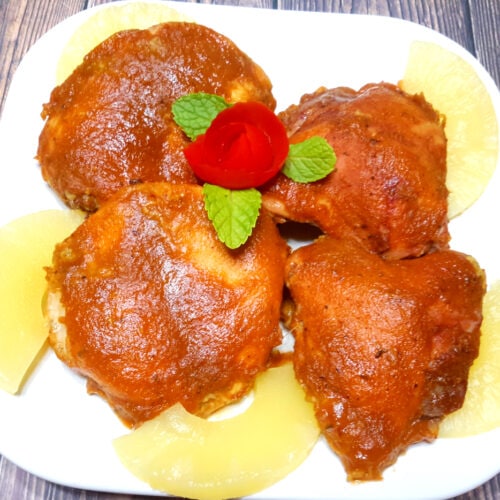 Pineapple BBQ Baked Chicken
How to make Pineapple BBQ Baked Chicken
Ingredients
6-8

pieces

chicken breast

or thigh

½

lime

1/2

tsp

hot sauce

or pepper sauce

1

tsp

sea salt

or to taste

6-8

tbsp

prepared green seasoning
Ingredients for Pineapple Sauce
1/4

cup

Barbecue sauce

1 1/2

cup

pineapple

diced

1/4

cup

pineapple juice
Instructions
To make Pineapple Sauce for Baked Chicken Blend all the ingredients for pineapple sauce in a blender to make a thick, smooth sauce. Set aside to use later.

Place chicken in a large bowl, wash with water and drain thoroughly.

Squeeze lime all over the chicken; rub with your fingertips to make sure it is evenly coated front and back.

Sprinkle salt all over the chicken; rub with your fingertips to make sure it is evenly coated front and back.

Add blended seasoning to chicken; use your hands to rub the seasoning in all the pieces to make sure they are evenly coated front and back.

Leave to marinate for 15 mins

While chicken is marinating; pre-heat oven to 350°F

Add a thin layer of pineapple BBQ sauce to the bottom of your baking dish.

Once time is up for marinating chicken, place it in the baking dish

Evenly pour pineapple BBQ sauce all over the chicken.
Notes
Serve with macaroni pie, mac & cheese, rice, or vegetables.
Nutrition
Calories:
295
kcal
Carbohydrates:
73
g
Protein:
4
g
Fat:
1
g
Saturated Fat:
1
g
Cholesterol:
4
mg
Sodium:
3124
mg
Potassium:
512
mg
Fiber:
5
g
Sugar:
55
g
Vitamin A:
304
IU
Vitamin C:
135
mg
Calcium:
67
mg
Iron:
2
mg
---
---