Christmas Cookies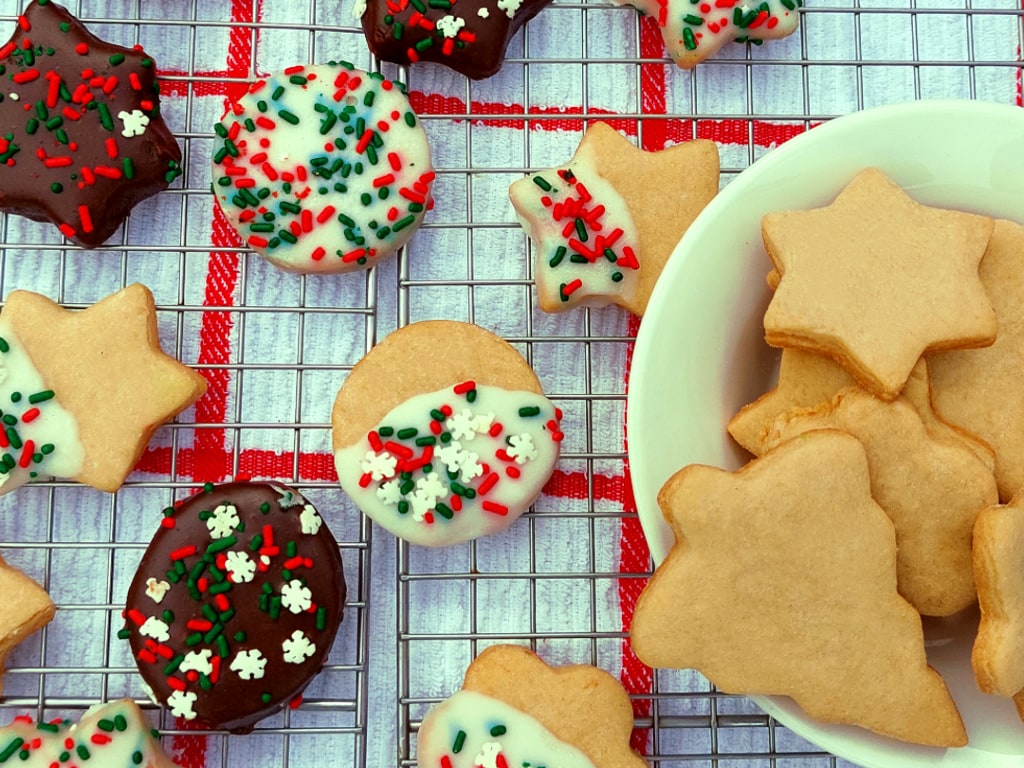 So the Christmas season is upon us, and cookies are one of the quick and easy recipes that people love to make over the holiday season. It's fun and can involve the entire family. I love making cookies and cakes for the holidays, and for this cookie recipe, I used coconut oil to add a rich flavor that most people will love. Coconuts tend to enhance the flavor of any dish, and these cookies are no exception. As you bite into these flavorful cookies, you get that delicious coconut flavor that reminds you of the Tropics.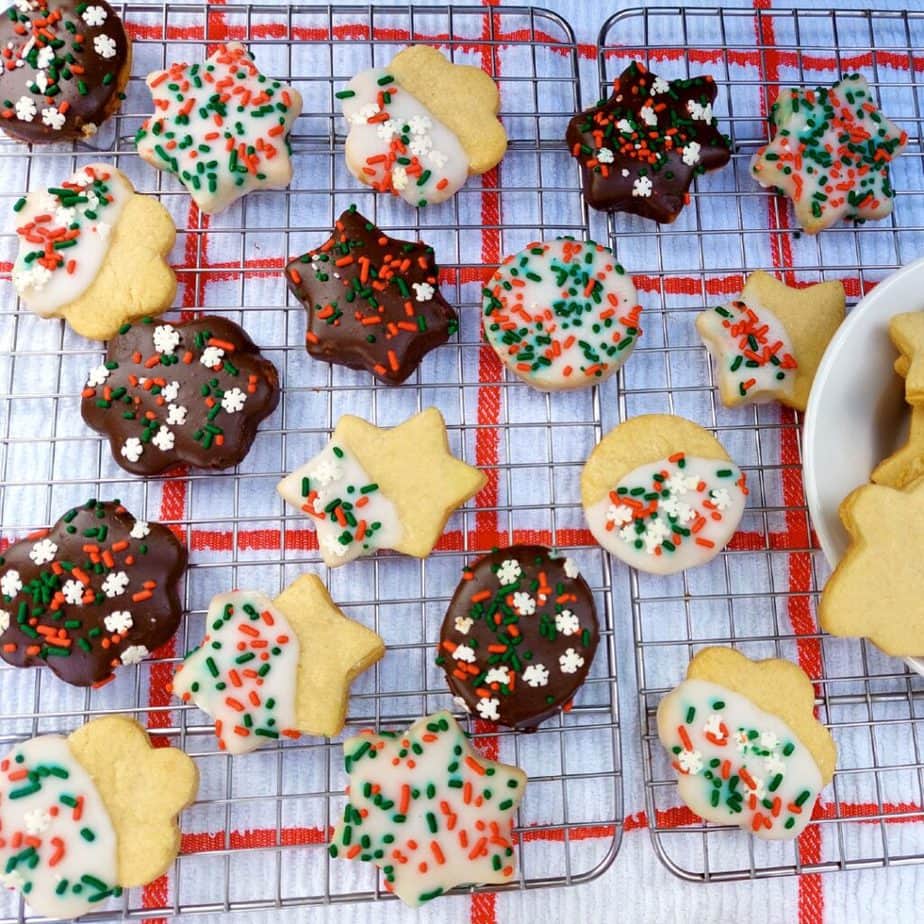 The most appealing thing about coconuts is their versatility, as you can use them in many different versions in multiple dishes. You can use the milk , oil or the water that is incredibly refreshing on a hot summer day. You can also use it unsweetened and shredded. However, if you decide to use coconuts, you will not regret it. It's a slightly sweet, creamy milky flavor with a slight consistency similar to melted butter. You will undoubtedly enjoy these coconut flavored cookies.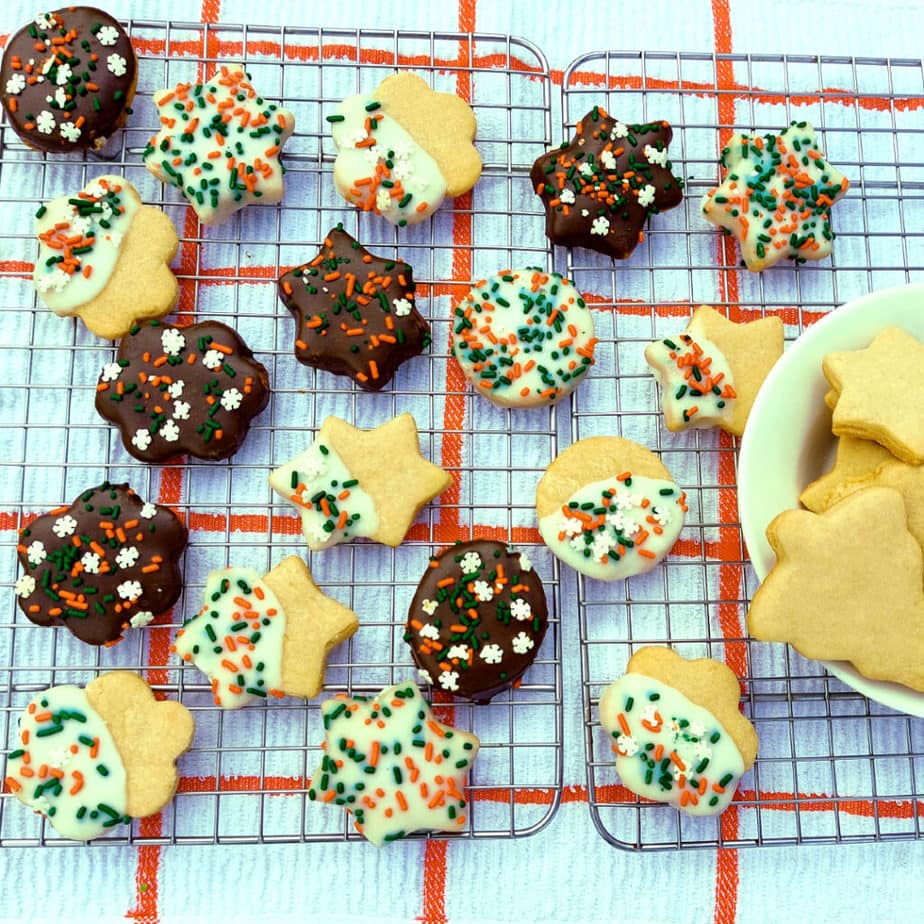 I used less sugar than usual in these cookies as I decorated them with melted chocolate and modestly sweetened green, red, and white sprinkles. It's essential to use less sugar when you can, especially if you have to add a very sweet decoration.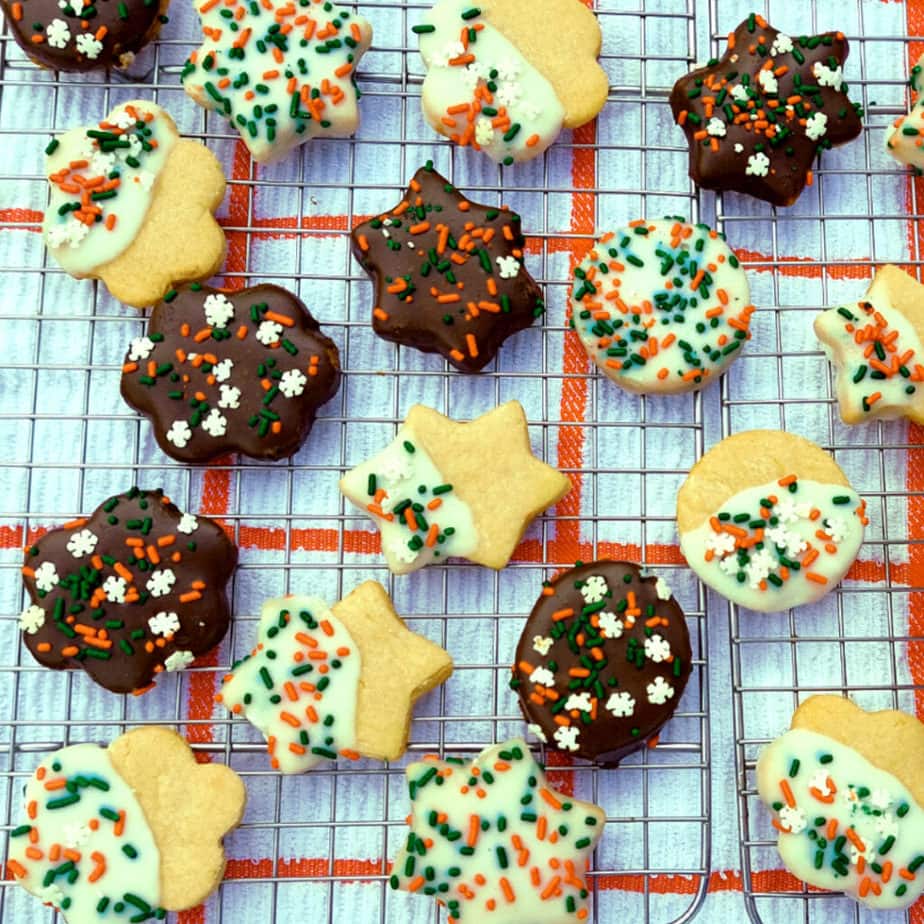 How to get the rich coconut flavor?
To get the coconut flavor, I added coconut milk and extra virgin coconut oil. A tablespoon or two of milk when mixing your dough makes the cookies less stiff, and it will be less hard and crunchy when it's done. The extra virgin coconut oil gives the rich coconut flavor to the cookies and a soft texture that you'll love. The cookies mixture is similar to the way you will mix a cake. It looks similar at this stage as the process is similar, but the end result is different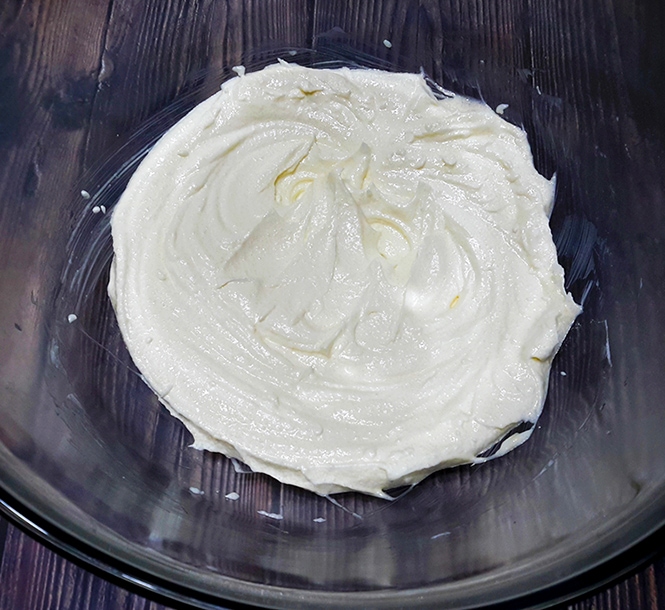 As you add the dry ingredients, the mixture will become like a dough.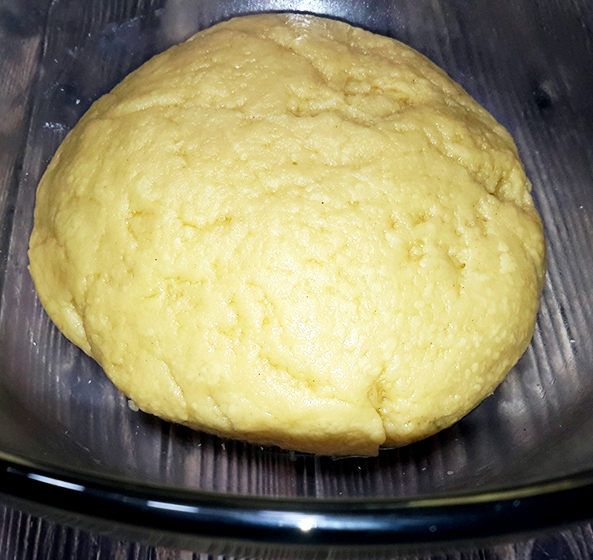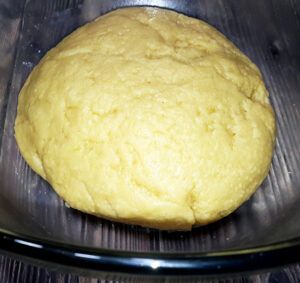 Once your dough is finished, you can wrap the dough in plastic wrap and place it in the refrigerator. Allowing the dough to chill will give you better-shaped cookies. You can use your cookie cutter after rolling out the cookies to cut in your desired shapes.
These cookies are tasty and the coconut flavor makes it even more delicious. Let's go to the recipe.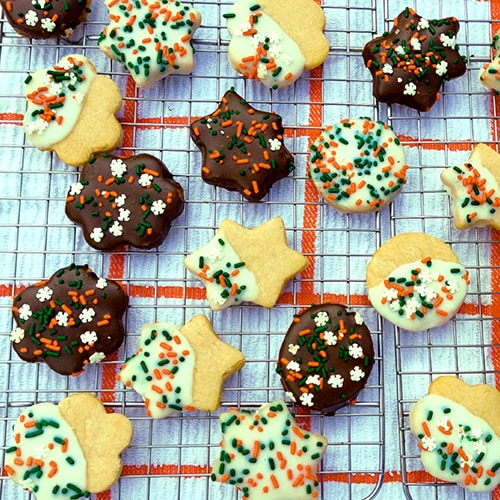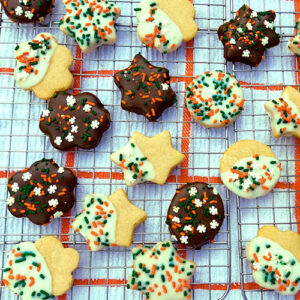 Christmas Cookies
Prep Time
30

minutes
mins
Cook Time
15

minutes
mins
Total Time
1

hour
hr
15

minutes
mins
Ingredients
1 

cup 

unsalted butter 

(room temperature)

3/4

 cup

granulated sugar

3

cups

All Purpose Flour

1

 egg 

(large)

1 

tablespoon

coconut oil 

(extra virgin)

2

 tablespoons

coconut milk

1

teaspoon

 baking powder

1/4

teaspoon 

salt

1/4

 teaspoon

cinnamon powder

1 

teaspoon

vanilla extract

1

 cup 

chocolate 

melted

2

cups

confectioners sugar

2-4

teaspoons

milk

sprinkles to garnish (red, green and white)
Instructions
In a large bowl, using a handheld mixer or stand mixer, beat the butter and granulated sugar together on medium-high speed until smooth and creamy, about 3-5 minutes.

 In a separate bowl, add one large egg, coconut oil, coconut milk, and vanilla extract. Using a hand whisk or hand mixer, beat egg mixture until thoroughly combined for about 1 minute.

Slowly add egg mixture to beaten butter and sugar. Add little by little and beat on medium speed as you add mixture each time. You may have to add a little up to five times. Adding a little at a time will ensure a smooth mixture without any curdle.

Sift flour, baking powder; add salt,and cinnamon and mix together in a bowl.

Add dry ingredients little by little and mix with a spatula. When all the drying ingredients are added, a dough will form. Then take your hands and form a ball with the dough.

At this point, if you try to work with the dough as it is, it will be too soft for you to work with. Chill the dough in the refrigerator for at least 30 minutes. Chilling the dough will give you a firmer dough to work with that can be rolled out and shaped easily.

Meanwhile Grease baking sheets (2 – 3) and line with parchment paper. Preheat oven to 350°F (177°C).

Remove the dough from the refrigerator, roll out the dough evenly (about 1/4-inch-thick) on a lightly floured surface. Alternately, you can roll it out between two large sheets of parchment paper. Then cut it into different shapes as you desire.

Once cut use the cookie cutter to lift the cookie onto the lined baking sheets. Place each cookie on the baking sheet leaving a couple of inches around each cookie. Bake until very lightly browned on the edges, about 15 minutes.

Remove the cookies from the oven and allow it to cool on the baking sheet for about 5 minutes before transferring to a wire rack to cool completely.

Melt the chocolate* Chop the chocolate into small chunks and place them in a glass bowl. Put some water over low heat and allow the water to simmer. Place the chocolate over the simmering water and stir until the chocolate is very smooth. 

You can decorate these with sprinkles, once you dip your cookies into the melted chocolate, this is when you would sprinkle your cookies. 

Royal Icing* If you want white cookies, you may need to use white chocolate or royal icing. If you are using white chocolate, you can use the same dark chocolate method.

If you wish to use icing then here's the steps.

2 cups icing sugar (sifted). Add milk little by little until you get the desired consistency, between 2-4 teaspoons. You have to be careful not to add too much milk. Decorate your cookies with the icing and with modestly sweetened green, red, and white sprinkles.

Place cookies in the refrigerator for a few minutes until chocolate and or icing hardens. Ready to serve!
Notes
NOTES Dark, Milk or White Chocolate: 1 cup of chocolate chunks are enough to dip your cookies. If you are using both dark and white chocolate you can use 1/2 cup each. If you are using more chocolate you may need an entire pack. (4.4 oz/124 grams) should be enough. Chilling dough before baking: This will give you more crispy, well-shaped, and slightly stronger flavored cookies. If you have the time, it is better to chill the dough.  However, if you're pressed for time, you can skip this step in the recipe: they will spread nicely on a lightly floured surface or between two parchment paper to roll out, and when placed in the oven, it will turn out soft and crispy anyway. Storage: Cookies stay fresh covered at room temperature, stored in an airtight container, for up to 1 week.
Nutrition
Calories:
104
kcal
Carbohydrates:
17
g
Protein:
1
g
Fat:
6
g
Saturated Fat:
4
g
Polyunsaturated Fat:
1
g
Monounsaturated Fat:
2
g
Trans Fat:
1
g
Cholesterol:
13
mg
Sodium:
21
mg
Potassium:
26
mg
Fiber:
1
g
Sugar:
6
g
Vitamin A:
123
IU
Vitamin C:
1
mg
Calcium:
9
mg
Iron:
1
mg
---
---